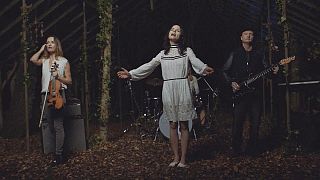 Forgiven, not forgotten: The Corrs are finally back with a new album, after a 10-year break away from music.
Siblings Andrea, Caroline, Sharon and Jim Corr had gone their separate ways to focus on raising their children and work on solo projects.
I love that The Corrs are back together, & their recent performance of "Forgiven, Not Forgotten" gives me chills!

December 29, 2015
The Irish family band reached fame in the late 1990's and has sold more than 40 million albums to date. That makes it one of the most successful Irish groups of all time — though still far behind U2.
"White Light", which was released in November, is the Corrs' sixth studio album. It has received mixed reviews: while some described it as pleasant, one critic at The Irish Times labeled it a wasted opportunity to win new fans.
The lead single, "Bring On the Night," pays tribute to the siblings' father, who died last year. But the Corrs have kept their upbeat vibe: "On the whole the record is very much life-affirming. It's very much live while we're here and make the best of it," says lead singer Andrea Corr.
The Corrs will also give their first concerts in over a decade when they perform at Dublin's 3Arena and in Belfast this month.
The gigs are part of a U.K. and Ireland tour that will see them play in Birmingham, Cardiff, Liverpool, London, Manchester and Glasgow.