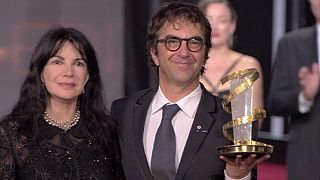 A delegation led by award-winning director Atom Egoyan hit the red carpet in Marrakech this week to pick up a special tribute to Canadian cinema.
It feels like a new voice is emerging and it's actually a very exciting time to be in Canada right now, making films
For the past decade the Marrakech festival's country tribute has been one of its highlights. This year's event drew many talents including actress and director Carole Laure, and director Brandon Cronenberg, who's following in the steps of his famous father David.
Canada Receives Tribute at Marrakech: MARRAKECH — Atom Egoyan headed a 23-person delegation of leading Canadia… https://t.co/OdbBOzfB8m

— Canada News Links (@dlCanadanews) December 7, 2015
Euronews met with Atom Egoyan to discuss Canadian filmmaking and its struggle to stand out from U.S. cinema.
"The cinema from Quebec is able to forge that identity because it has its own language. And I think that English Canadian cinema has this issue where we are speaking the same language as the U.S., and the differences that makes our English-Canadian culture separate are subtle," Egoyan said.
"That being said, there's a type of film that you can make in English Canada that is impossible to make in the U.S., I mean I look at even this new film,"Remember": it's an American script but it could not have been made in America, because it's considered not to be commercial."
Canada's Top Ten Film Festival features for 2015 include FriendInABox</a>&#39;s CLOSET MONSTER <a href="https://twitter.com/hashtag/SeeTheNorth?src=hash">#SeeTheNorth</a> <a href="https://t.co/0zugpDaP5A">pic.twitter.com/0zugpDaP5A</a></p>&mdash; TIFF (TIFF_NET) December 8, 2015
In competition this year is young director Stephen Dunn's debut: "Closet Monster", a semi-autobiographical coming out movie that has already won Best Canadian Feature at the Toronto Film Festival — quite a rare feat for a first film.
Dunn, who's only 26, says now's a great time for Canadian filmmaking: "There's like a really exciting energy going on in Canada with a lot of young filmmakers, like my friend Andrew Cividino, who's also here (at the festival), and Xavier Dolan… It feels like a new voice is emerging and it's actually a very exciting time to be in Canada right now, making films."
Violence in movies: a 'therapy'
Invited to give a masterclass was German-Turkish director Fatih Akin, a former jury member at the 2013 Marrakech film festival, under the presidency of Martin Scorsese.
He told euronews that festivals like Marrakech's played a "very important role" in lightening up talk about the Arab world, and showing the region is also a high place of art and culture.
Another special guest was Park Chan-wook, who won the Cannes Grand Prix in 2004 for "Old Boy". The South Korean director confessed that violence in his films is inspired by personal revenge scenarios he cooks up against those who have wronged him.
"It's a training exercise, a therapy to imagine these things, because just imagining these things in your head doesn't harm anybody," he said.
"If everyone in the world could subscribe to this kind of therapy, and be very specific, meticulous, realistic in imagining what they would do to those people who have wronged them, then the world would probably be a better place… people would probably be less likely to act out their violence against each other."