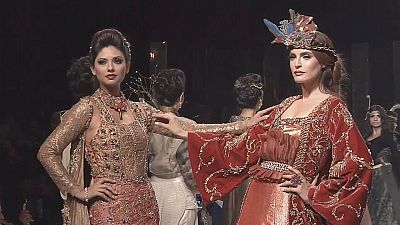 A sartorial interpretation of the Baroque paintings of Rembrandt was behind Nilofer Shahid's presentation during Pakistan Fashion Week in Karachi.
It was a change of direction for her to take inspiration from a Dutch master.
The designer is one of the country's best known and she is also internationally recognised for her collections which usually revolve around the country and heritage of Pakistan. Her ancestry dates her bloodline from Afghanistan to Turkey.
It was a sonnet by the poet and revolutionary Faiz Ahmed Faiz which inspired Zaheer Abbas's collection. The poem's title translates as 'Breeze of a New Day'.
The young but established designer employed a colour palette of black, plush pinks, pastels, rich tones of maroon, along with intricate embroidery and gold and silver embellishments.
Another young designer in Pakistan is Umar Sayeed. His collection used kaleidoscopic colours, flowing chiffons and plush silken textiles.
Our dip into the fashion scene in Pakistan ends with this bridal collection. It is the work of Zainab Chottani who has carved out a niche for herself on the country's fashion scene after making her debut with a show in 2009.
Her showcase collection was titled Dil-Rubba which means 'Beloved' and relied as much on traditional silhouettes as it did on bold cuts and deep necklines also turning the traditional skirt – into pants.
At Rome's famous Cinecitta film studios fashion house Chanel used a Parisian-inspired street in the studios as a backdrop for its 'Metiers dArt' show.
Many classic Chanel touches were evident with the use of quilting and strands of pearls. Heels were flat or stilettos with pointed toes. The silhouettes were slim and elegant, paired with accessories coloured black, white and grey.
It was female models only until the end when Karl Lagerfeld made his entrance with a group of male models.