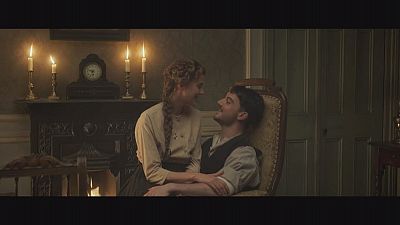 Adapted from the classic novel of the same name by Scottish author Lewis Grassic Gibbon, 'Sunset Song' is the story of a farming family in rural Scotland, whose lives are torn apart by tragedy at the start of World War I.
Model-turned-actress Agyness Deyn takes on the lead role of the teenage daughter, with Peter Mullen playing her violent, repressive father.
"The first time I read it, I read it in a hotel room after kind of windelling it out of the casting directors to let me read it," explained Deyn. "And I was just so moved, I remember crying, I was in a hotel room reading it and when something moves me, it's so meaningful. So yeah, I thought I have figure out how I can play this woman."
Shooting took place in New Zealand and Scotland in harsh climatic conditions, and acclaimed British director Terence Davies paid homage to his team: "It was hard in Scotland, because it was very cold, it rained a lot. There were one of two days where it wasn't too bad, but it was misery for everybody and they were absolute troopers – they never minded being doused with water and all that."
The film has garnered mixed reviews ranging from a tour de force of drama, composition and colour to a heartbreaking disappointment.
'Sunset Song' is out this month in the UK and Ireland.