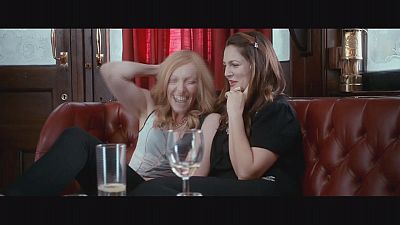 'Miss you Already' is the tale of Milly and Jess, best friends since childhood and into adulthood.

For the ultimate friendship movie… it has to be #MissYouAlreadypic.twitter.com/lEUsZoDe5Q

— Miss You Already (@MissYouAlready_) October 8, 2015
Then a bombshell Milly, played ''Toni Collette'':https://en.wikipedia.org/wiki/Toni_Collette, is diagnosed with cancer:

What have you shared with your BFF?! #MissYouAlreadypic.twitter.com/m2MPZ8bs1N

— Miss You Already (@MissYouAlready_) October 7, 2015
Drew Barrymore
is Milly the healthy half of the duo: "It was very much in keeping with the director Catherine Hardwicke's vision of, like, not breaking down and crying all the time, and making this a heavy piece. These girls, these women, have each other's backs. They laugh, they're honest with each other, they go through tough times but they're strong and they're nurturing of each other, and there's such an authentic female friendship set in life, death and everything in between."
Saturday night… Perfect for you and your BFF to watch #MissYouAlready. Who's going?! http://t.co/aC8vgAp4JTpic.twitter.com/qoVIZ91GQp

— Miss You Already (@MissYouAlready_) September 26, 2015
In preparation for the part, Collette and director
Catherine Hardwicke
spent time with cancer patients, their families, and experts.
Toni Collette elaborates:
"The Director Catherine Hardwicke and I spent a lot of time traveling around London meeting lots of people who were very generous with their time, and were very open to talking about their experiences because they were eager to have something realistic portrayed on screen, so I spent time with people who had cancer who were in treatment, some people who had beaten it, some family members, and all kinds of medical experts, and I think it really really helped."==
.Time</a> says <a href="https://twitter.com/hashtag/MissYouAlready?src=hash">#MissYouAlready</a> "dismantles the stereotype of the cancer patient." NOW PLAYING! See it with besties! <a href="https://t.co/vDguPfRFkg">pic.twitter.com/vDguPfRFkg</a></p>&mdash; Catherine Hardwicke (C_Hardwicke) November 17, 2015
==
"Miss you Already" is now on general release.