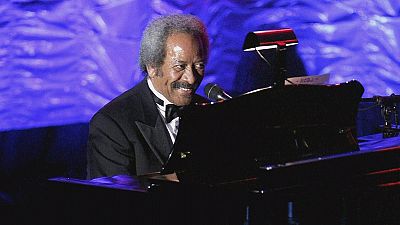 Allen Toussaint, one of the giants of New Orleans music, has died after suffering a heart attack. The 77-year-old songwriter collapsed backstage after a concert in Spain.
Starting in the early 1960's, Toussaint wrote hits for some of the biggest names including Lee Dorsey and Otis Redding. His songs have been covered by everyone from The Rolling Stones to Paul McCartney.
In 1998, his name was added to the Rock and Roll Hall of Fame.
Born in a working-class district of New Orleans in 1938, Allen Toussaint taught himself to play the piano, soaking up the boogie-woogie rhythms of the time. At the age of 13, he dropped out of school and joined his first band. He was later hired as a session pianist by Dave Bartholomew, musical director for Fats Domino.
Fairly soon he moved into production, where he learned the deceptively difficult trick of creating music that wasn't tied to a single sound. Alongside his successful solo career he teamed up with all-female singing group Labelle, producing their highly acclaimed 1975 album Nightbirds.
While he was pure New Orleans, Toussaint used the whole musical field: one of his compositions, 'Here Come the Girls', recorded in 1970, formed the basis of the Sugababes' 2008 hit 'Girls'.
Toussaint is survived by two children and several grandchildren.
http://www.npr.org/player/v2/mediaPlayer.html?action=1&t=1&islist=false&id=455620877&m=455679529