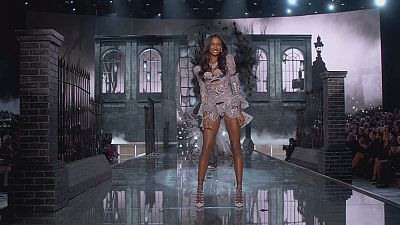 Victoria's Secret models showed off sexy lingerie and elaborate sets of wings at the brand's 20th annual fashion show in New York on Tuesday (November 10).
The brand's iconic Angels included supermodels Adriana Lima, Jasmine Tooks, Lily Aldridge and Alessandra Ambrosio.
The taping included musical performances by British singer Ellie Goulding, The Weeknd and US singer and actress Selena Gomez, who stepped in after Rihanna abruptly canceled.
Among the most talked-about models were Kendall Jenner and Gigi Hadid. Both are making their debut with Victoria's Secret.
In all, 47 models flashed Swarovski crystal body suits, hippy inspired looks and a $2 million Fantasy bra of 18-karat gold encrusted with some 6,500 diamonds and precious stones.
The extravaganza made a huge buzz and the entire fashion show will be aired on TV on December 8.
Victoria's Secret's fashion show is viewed by 500 million people across more than 150 countries. That's a bigger audience than for all other fashion shows combined, according to business magazine Forbes.