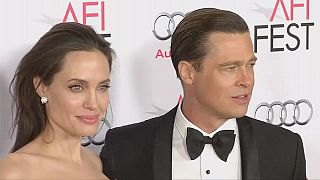 Angelina Jolie is back in the director's seat with 'By The Sea' in which she stars alongside her husband Brad Pitt.
France, in the mid-1970's. Vanessa, a former dancer, and her husband Roland, an American writer, travel the country together. They seem to be growing apart, but when they linger in a quiet, seaside town, they begin to draw close to some of its inhabitants.
The movie includes a strong French cast including Mélanie Laurent of 'Inglourious Bastards' fame, Niels Arestrup and Richard Bohringer.
'By The Sea' had its world premiere at American Film Institute's Festival in Hollywood. According to Jolie, the couple, who have been together for ten years and have six children, certainly know what they are talking about when it comes to relationships.
"What was really, really nice was to say, after 10 years of marriage, that – and anyone that's married or in a long term relationship knows this – you cannot just keep things in and you can't play it safe. You've got a long life ahead of you and you've got to shake it up and sometimes it's wonderful to test yourselves, to push each other," she said on the red carpet.
'By The Sea' is Jolie's third feature as a director and follows last year's 'Unbroken', which was not a critical success. It's the couple's first movie together in ten years since 'Mr and Mrs Smith', during which they famously fell in love.
During the shoot on the island of Malta, the couple went through a difficult time in their personal life with Jolie suffering from serious health problems. Pitt says he and his wife work together as a great team: "We're continuing to stay in love. Yeah, this movie – it's really no different than trying to get the kids to bed at night. It's a tag team, ultimate wrestling, endeavour and here on set, again, we're working together and solving problems and making the thing work and figuring it out and it's just a great collaboration. You know, she's my wife."
The movie is a hot candidate for the upcoming awards season. The director of photography is Christian Berger, famous for his work with Michael Haneke in 'The Piano Teacher', 'Hidden' and 'The White Ribbon', the music is composed by Gabriel Yared who won an Oscar and a Grammy for his work on 'The English Patient' and the editing was by Martin Pensa, nominated for an Oscar in 2013 for 'Dallas Buyers Club'.
'By the Sea' is on global release from now.