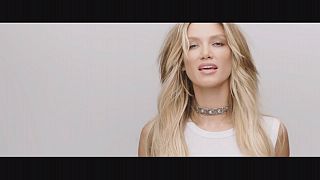 "Wings" is the latest single released from Delta Goodrem's upcoming fifth album.
Australian pop singer Delta Goodrem who has already had 16 top ten hits, says this one is about freedom: "Wings is really a song about breaking down all the different barriers within yourself and just saying 'OK, everybody is looking for new horizons, for second chances, but what if we just lose all control and just let everything go and just remember that these wings were made to fly?' You know, do something that makes you feel free."
Delta Lea Goodrem (born 9 November 1984) is an Australian singer-songwriter and actress. She was born and grew up in Sydney, New South Wales, where she took dancing, acting, singing and piano classes at a young age. She began her career as a child actress, and rose to prominence in 2002 in the Australian soap Neighbours as Nina Tucker.
Delta Goodrem signed to Sony Music at the age of 15 and released her multi-platinum album Innocent Eyes (2003), which topped the Australian albums chart and reached number two on the UK albums chart. It became one of the highest-selling albums in Australian history, with over 4 million copies sold worldwide and all five of its singles reaching number one in Australia. This gave her the record for becoming the first ever artist to have five number one singles from a debut album.
Delta Goodren will be starring in Andrew Lloyd Webbers hit musical CATS when it arrives in Australia later this month: "I can't wait to join the CATS family. I've really fallen in love with the theatre. It's just so much fun. It's an all-Australian cast and I met Andrew Lloyd Webber this week and worked with him on the song, and it's just an absolute honour to do the role that so many iconic actors have done before me."
Wings is in shops now.