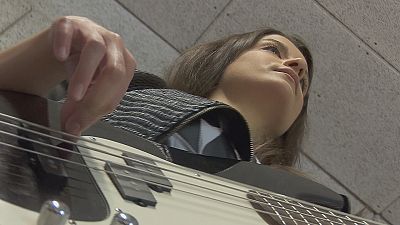 At 22 she is the Queen of Strings, bassist ''Éva Muck'':https://www.youtube.com/watch?v=mjWiRKgLOfM from Hungary won the prestigous US musical prize.
She comes from a family of musicians her father is a saxophonist, her mother a singer.
As a child she began to play the piano, but changed her musical direction at 14.
"I started to rebel so I really wanted an unusual instrument so I chose the bass guitar."
The Queen of Strings was launched by US American bassist/singer Nik West.
He wanted to raise the profile of women in rock and encourage girls to pick up an instrument: "I am very happy, this is very good feedback that people like what I do, even on an international stage, and it gives me the feeling that it is worth continuing."
Now her favourite band is her new trio, the JMJ trio with another woman on drums. They usually play funk with a jazz influence:"I find it very important that even if I play the bass, and many consider it as a male instrument, I would like to add my femininity too. First and foremost I am a woman, I don't want to hide in the background just because I play the bass."
Although the Queen of Strings award has lifted her musical career she is still studying the science of adult education: "The music will always be part of my life but I can also imagine myself working in a civil job, because I find it important to have plan B, as being a musician or any kind of artist in general is very wacky."
There is still time for this talented musician to decide.
For the time being lets hope she keeps on rockin'.