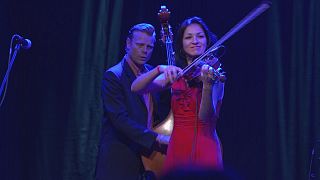 All sorts of music styles were on display at the World Music Expo (WOMEX) in Budapest, Hungary. Among them was Canadian band Kleztory with their rich mosaic of classical, contemporary, jazz, country and folk.
Elvira Misbakhova, a violinist with Kleztory, said: "We played a lot in the streets. We started with classical music because we are classically-trained musicians. And we thought, why don't we try other stuff, folk, jazz, improvisation or klezmer? So we did some klezmer songs, and the public said oh, what's that? So it is working."
Cimbalom plays an important role in Hungarian folk music. Two of its experts recently got together to form a duo, Cimbalomduó. Kálmán Balogh, one half of the group, said: "When he plays a solo I follow him, because we think in music. Then we change the roles, and he serves me. We pay a lot of attention to each other, and if a spontaneous joyful moment comes, we have to be able to react."
Also at the event was Sahrawi singer Aziza Brahim who was raised in refugee camps in Algeria where her family settled after fleeing from the Moroccan occupation of Western Sahara. She lives in Barcelona and plays with Spanish musicians. She says her background is reflected in her music: "This music originated in the Western Sahara, my country, but of course it is influenced by contemporary music from the Mediterranean, Spain, West Africa, Mali, Senegal and North Africa too."
WOMEX also welcomes five Finnish guys from Lapland who proved that tango can be easily mixed with Balkan rhythms.
Next year WOMEX will be hosted in the Spanish citiy of Santiago de Compostela.