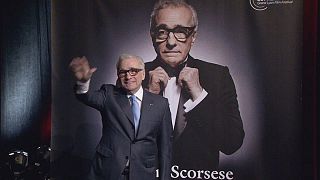 It was to legendary film maker Martin Scorsese that this year's Lumière Festival paid homage in the French city of Lyon – a week-long event without any competition, dedicated to classic cinema.
To a standing ovation, Mexican actress Salma Hayek presented Scorsese with his Lumière Prize, which he accepted in a moving speech:
"I thank you all for this extraordinary honour, inviting me here to Lyon which is a true celebration of cinema, named after the men who brought it to life, here in Lyon."
During his stay, the Oscar-winning director, himself a film lover, gave some time to the Lyon public in a masterclass, where he talked about everything from his passion for film to his future projects.
"It's surreal that he's here in Lyon," said one young fan.
"I'm here to see someone who knows how to give, how to transmit his love of cinema," said another.
"It's very uneven, there are some Scorsese films that I don't like at all, but he is someone who has devoted his life to cinema, and who is also a great cinema-lover, who restores plenty of movies, I'm really looking forward to seeing him," added a lady in the queue in front of Lyon's Théâtre des Celestins where the masterclass was held.
Scorsese talked with candour about his New York childhood as a sick, asthmatic child, whose parents took to the movies because they didn't know what else to do with him. The legendary director also discussed his first TV show, 'Vinyl', co-produced with Rolling Stones frontman, Mick Jagger, and his upcoming project, 'The Irishman', starring his old friend, Robert De Niro.
While De Niro and Scorsese are veritable icons in the world of cinema, the term "classic" movie remains hard to define. We asked Thierry Frémaux, who is both director of Lyon's Institut Lumière which organises the festival and director of the Cannes film festival , what makes a film a "classic".
"In some cases, a purgatory period is needed, for example we're not yet looking at films shot in the early 21st century, but for the first time we are reflecting on the 1980's. The 1980's that was 30 years ago. The history of cinema is not just silent films or films dating back to the Thirties or the Fifities, it also includes movies that are much closer to us in time," Frémaux told us.
Among the guests invited to the festival was Hollywood animation film legend, John Lasseter, credited with giving the Disney studios a new lease of life at the head of Pixar. Celebrating 20 years since its initial release, his classic animation film 'Toy Story' was given a special afternoon screening in Lyon, to the delight of fans young and old.
"To be honoured here is really special about what we've done because I still think it's brand new, I still think, twenty years ago to me – 'What? it's been that long since Toy Story came out?!'," Pixar Chief Creative Officer John Lasseter told euronews.
"Pixar has become a symbol, the symbol of a film both for children and for adults, and that's also why it brings together so many people," said an older fan at the screening.
"We've all seen it five times in my family, but it's not the same to see it on a big screen in Lyon, with lots of other people around," said a young boy.
While one of the aims of the Festival Lumiere is to offer a chance to the public to enjoy great film classics (150.000 visitors this year according to Fremaux), it's also a place for professionals in the field of film preservation to meet.
Running alongside the festival, the Classic Film Market is the world's first heritage film business forum, a unique networking opportunity for film rights holders, restoration laboratories and distributors.
Gérald Duchaussoy, in charge of the market, explained what major challenges they face: "Rights ownership, that's essential. Finding out who owns the rights, who has the right to exploit these films, depending on the country, depending on the contracts, that's the really complicated part. And then you need to look for all the elements: find the reels, the negatives, everything that's missing, what you want to work on."
An issue close to Martin Scorsese's heart, whose Film Foundation has restored hundreds of movies since it was established in 1990. In a speech focused on his preservation work, the legendary director warned "there is still a lot to do", imploring those who own the films not to make it harder for filmmakers