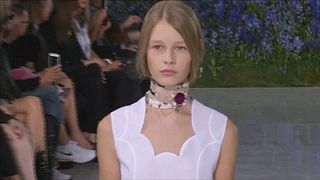 Pre-makeup and hair, 14-year-old Sofia Mechetner looks her age as she prepares to hit the catwalk to show off Dior's 2016 spring-summer collection in Paris.
The Israeli model's young age has reignited the debate over underage modelling in this cut-throat industry.
"I feel ready… and I am not alone, I am being looked after closely. They are treating me really well here. Everything I ask for is being taken care of. So the fact that I am 14 years old is not really an issue," she says.
The new face of Dior grew up in a run-down neighbourhood with her single mother who juggled part-time jobs to make ends meet.
"(Before she started with Dior) She was cleaning houses with her mother, so if she is not too young to clean houses, I don't think she is too young to walk on a show," says her agent Rotem Gur.
Mechetner's agent said a chaperone was with her 24 hours a day, sleeping in the same room as her and going with her to auditions and shows.
Responding the controversy herself, the model said that fashion nudity was about art and not about sexuality
Chanel recently recruited 16-year-old Lily-Rose Depp, daughter of Johnny Depp and Vanessa Paradis for its eyewear campaign.
Chanel creative director Karl Lagerfeld is pragmatic: "The public wants to see them (clothes, glasses) on girls like this. They can identify even if it's not the same age group. That's the girls of the moment, fashion is about the moment. I'm an opportunist, a fashion opportunist, but there's nothing bad about that because that's our business," he says.
The use of young models in fashion is not new. Kate Moss was scouted when she was 14 and Naomi Campbell when she was just 15.
However, there have been industry moves to change things, notably during the biannual catwalk shows. The British Fashion Council has introduced new guidelines as has New York state.
''So all of the designers that are contracted to London Fashion Week, the models must be 16 or over. We think that's really important, we work closely with the agencies, if there's a young girl that's here for the first time, certainly they'll be chaperoned," says British Fashion Council Chief Executive, Caroline Rush.
Some designers insist that the real issue is not age but health. The fashion industry has often been accused of promoting anorexia when using underweight models.
"I think that the important thing is that we don't encourage young girls to be too thin, so that's the health. And in terms of the youth, we encourage not to have girls under 16 on the runway. And more important, to feed them," says designer Diane Von Furstenberg.
Pressure has mounted to move away from the ultra-slim look. France wants to introduce an amendment banning excessively thin models.
However, French model Aymeline Valade said most designer houses often use models without curves for fitting reasons: "You've got to know that they don't have time to perfectly fit the clothes and on a girl with curves, it's hard to fit them because it takes time, it takes at least 24 hours for just one look. But a girl who has no curves, you can on put the clothes, and they just fall well," she says.
Some young models are often skinny because they're still growing up, but many adult models admit there should be some rules concerning models' age.
"I think you should start modelling at 18. I mean, that is the age I started at, but I think, even when I look back to when I first started, I was lucky to have Burberry to take care of me, because I had that exclusive, so I was with them every day. But if not, I can not imagine going all around the world on your own. It would be so much pressure," says British model Neelam Gill.
She is echoed by model David Gandy: "You do get scrutinised, you do get disappointments and that's very hard to take when you're 14 or 16. At 18 you're a little but more experienced, but even at 18… I would say I was probably ready by 21, 22."
While most people understand that fashion is an industry based on deception – on the promise that if you wear this you will look cooler, thinner or taller than you really are – the danger is the pretense that these girls are older, wiser and more seductive than they can possibly be at their age.