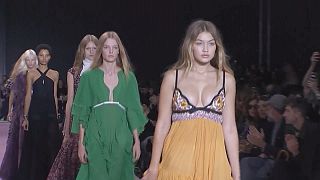 Stella McCartney's eagerly-awaited show at Paris Fashion Week drew a host of rich and famous guests including tennis champion Maria Sharapova and the ever-present Salma Hayek.
Under the gilded chandeliers of the Opéra Garnier, the British designer sent out models in long dresses and skirts in white and red, green or black check, as well as jaunty stripes.
There were also asymmetric pleated tops and skirts combinations, and dresses in contrasting colours for the upcoming spring-summer season.
The aviator sunglasses worn by some models had bright frames and summer footwear included sporty sandals and chunky platforms which, in true Stella style, were made from sustainable wood.
Hedi Slimane's Paris show for Saint Laurent saw models in tiaras strut down the catwalk wearing barely-there slip dresses occasionally combined with wellington boots.
When long, dresses in shimmering gold and silver hung off the shoulder revealing more skin.
Shaggy jackets appeared throughout the show, before the finale where models returned revealing silk dresses slashed to the thigh and billowing waves of material floating behind them.
Giambattista Valli chose the Palais Garnier for his ready-to-wear spring-summer collection.
Flowers, colours, a retro feel combined with sporty miniskirts and long sweeping gowns all went into this show, one of the most diverse Valli has produced in seasons according to fashion experts.
The outfits embellished with lace and brocade details were often paired with tall and glittery Spartan sandals.
Top model Gigi Hadid stole the show with one of the closing looks – a marigold gown with a deep plunging neckline and an embellished, patterned bodice.