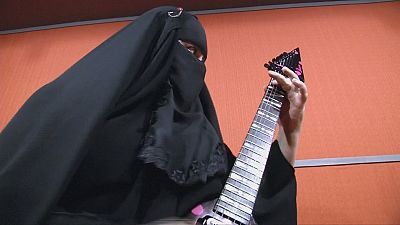 Thrashing stereotypes as she shreds the guitar. Gisele Marie has been fronting her brother's heavy metal band Spectrus since 2012.
Born in Sao Paulo of German Catholic parents she converted to Islam in 2009.
The 42-year-old has received mixed reactions to her presence on stage.
"People do not expect to see a Muslim woman who uses a Burqa, practices the religion properly and is a professional guitarist who plays in a Heavy Metal band," admits Marie. "So many people are shocked by it, but other people are curious and find it interesting, and others think that it is cool."
Meet Gisele Marie, a Muslim woman and professional heavy metal musician from Sao Paulo, Brazil. Rock on, sister! pic.twitter.com/l0ObTKgvIO

— Shafiqah Othman (@sfqomhz) September 23, 2015
Before converting to Islam, Marie was a practising Wicca, a modern pagan witchcraft religion. She says that what she searches for in a religion is passion for life and the ability to be oneself. Finding acceptance from others has been harder. While some Muslims disapprove of what she does, she says that others are regulars at her shows.
"There are many people who play all sorts of musical styles and who are from all sorts of religions and non-religions. Slayer, for example, is a thrash metal band which sings about with satanic topics, but all of its members are practising Christians. Where is the incompatibility in that? It is not incompatible at all, it is an artistic profession. This is my work, this is my profession, and at the same time I am Muslim. I don't think one has anything to do with the other."
The band itself reflects a myriad of different faiths from Afro-Brazilian Umbanda, to spiritualism, Catholicism and Islam. However, on the band's official blog she says that 'professional differences' have led her to quit the band.
This muslim heavy metal guitar player proves burqas and head-bangers can go hand-in-hand (from our Vine</a>) <a href="https://t.co/cLBkcEIIB9">https://t.co/cLBkcEIIB9</a></p>&mdash; NowThis (nowthisnews) September 24, 2015