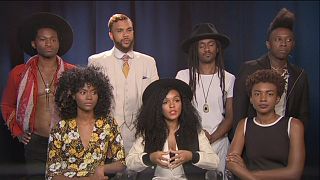 Grammy award winning artist Janelle Monáe is making waves in the music industry with her sonic movement Wondaland. The collective are on a major publicity drive for their debut EP "The Eephus" – a showcase of the individual styles from recording artists Janelle Monáe, Jidenna, Roman GianArthur, Deep Cotton and St. Beauty.
"The one thing if I had to like do a comparison, it's kinda like the solar system and how there are different planets," explains Monae. "Each artist each act represents a different planet. They're visionaries, unique and when we are all together it just feels like a complete solar system and we are working – it's effortless."
The collective are also keen to use their platform to address issues of social justice. The group have been leading protests against police brutality in the US and in their anthem for the Black Lives Matter movement "Hell You Talmbout" they chant the names of black men and women killed by police.
"We don't believe by any standard that every officer is somehow crooked," says Jidenna. "We know some great ones in our family. And outside of our family. But there are definitely those – many of those that are completely abusing that duty that we as citizens grant them. Right. So we thought it was important that we step out there."
In an Instagram post about the song Monae wrote, "Silence is our enemy. Sound is our weapon. They say a question lives forever until it gets the answer it deserves."