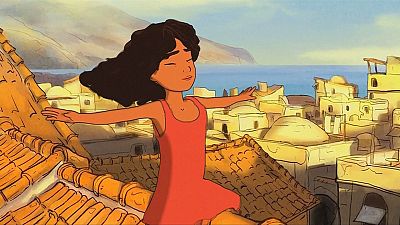 The animated film Kahlil Gibran's 'The Prophet' has premiered in the United States.
The film is based on the 1920s bestseller written by Lebanese poet, Kahlil Gibran.
The adaptation is a collection of nine stories by Mustafa, a poet imprisoned for his writings which are deemed dangerous and rebellious.
Selma Hayek co-produced the movie and voiced one of the characters: "You can express more in sensation through the art and the music and the poetry. The movie is about freedom and the animation gave us the freedom to be more faithful to the theme of the film."
Salma Hayek says animation key for 'Kahlil Gibran's The Prophet' http://t.co/28Bv941kZkpic.twitter.com/LDiFRMcmFe

— Dunya News (@DunyaNews) July 31, 2015
The messages of peace, love and brotherhood contained within the text have been brought to life by nine of the world's leading independent animators and directed by Roger Allers.
#SalmaHayek#US#Entertainment Read details: http://t.co/4kwOnotjLdpic.twitter.com/eb8DTHksRQ

— SAMAA TV (@SAMAATV) July 30, 2015
He spoke of working with Selma Hayek:"She is such a character. She would come in and we would try different versions of the scene. She brought so much energy to it, and since many of the scenes are about a mother and daughter, she brought her own sensitivities as a mother of a young daughter."
With Roger Allers #kinglion director in #annecyanimationfilmfestival for #theprophet more on @euronewspic.twitter.com/8q1n97RA4m

— fred ponsard (@fredponsard) June 18, 2015
The film is currently on release in the United States.