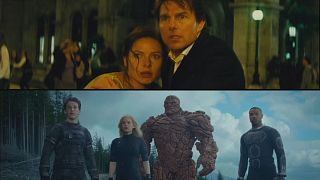 If you're a big fan of action movies, packed full of stunts, then some of this summer's releases are set to leave you salivating.
Arriving in cinemas from the end of July, "Rogue Nation" is the fifth instalment of the hit Mission: Impossible series.
Directed by Christopher McQuarrie, it stars Tom Cruise as IMF agent Ethan Hunt.
The mission is to eradicate the Syndicate, a rogue organisation set on destroying the Impossible Missions Force.
The cast also includes Alec Baldwin, Jeremy Renner and Rebecca Ferguson.
The movie will hit the big screen in the UK and Ireland on 30 July 2015.
This summer also sees the arrival of the "Fantastic Four," which takes its name from the Marvel Comics superhero team.
It centres on four young people who find themselves in another universe. They have to work together to save Earth from a former friend, who's now their enemy.
The movie's directed by Josh Trank and stars Kate Mara, Miles Teller, Michael B Jordan and Jamie Bell.
The "Fantastic Four" will also start showing in cinemas from the end of July. It'll be on screens in the UK and Ireland on 6 August 2015.