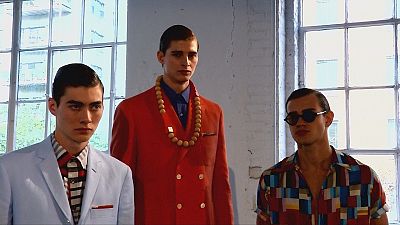 Men's fashion takes centre stage in the Big Apple this week with the first ever New York fashion week, men's edition.
Previously, male fashions shared the bill with womens wear collections, often being eclipsed by the female style pack. An attempt in 1995 to launch a separate menswear presentation failed to ignite passions.
From http://t.co/RlWb7I6Dkw: Sport coats, hats and prints, outside the New York Fashion Week: Men's shows pic.twitter.com/4sbXkwKG7r

— The New York Times (@nytimes) July 14, 2015
Though it's not technically a week, designers have just four days to win over the public. Among them is Brooklyn based brand Cadet which aims to capture the spirit and nostalgia of post-war America.
"The collection is inspired by a vintage photograph of World War II paratroopers who invaded Normandy – they were the first to come into Normandy," explained Raul Arevalo, co-founder of Cadet. "And I was so inspired by the picture because it's very timeless it's very masculine, but what I did was, we updated the silhouettes and we updated the fabrics. So we're using a lot of tech fabrics, we're using natural fabrics, such as cotton, merino wools."
Lovin Cadet's monochromatic military inspired SS16 at New York Fashion Week Men's #jumpsuits#NYFWM#onfleekpic.twitter.com/bBYiXGBDao

— FortyTwo

NYC

(@fortytwonyc) July 14, 2015
Up and coming designer Carlos Garciavelez unveiled his second ever menswear collection. The athletic look mixed navy blue with shocks of neon, explores the concept of light, which, Garcivelez, as an architect, knows plenty about.
"So the collection centers around light, about the ephemeralities of the qualities of light and about how they can translate that into the body and wearability, about picking and showing, you know, some of them are more subtle, some of them are bright, but it is more about the way you reveal maybe a little adventurous part that we have inside."
garciavelez</a> Spring/Summer 2016 Collection | <a href="https://twitter.com/hashtag/NYFWM?src=hash">#NYFWM</a> &#10;<a href="http://t.co/YdgmRR5Kn7">http://t.co/YdgmRR5Kn7</a> via <a href="https://twitter.com/thefashionisto">thefashionistopic.twitter.com/9HOznexY8O

— Adolf D David (@DdFito) July 14, 2015
While menswear designers traditionally headed for Milan, London and Paris to showcase their work, New York is hoping to give them a run for their money. It is also a nod to the growing importance of the male sartorialist across the pond.
Zoolander fans: Here's what to expect from the first-ever New York Men's Fashion Week http://t.co/lCsr8zgdtwpic.twitter.com/k2R6T6qOfB

— Fortune (@FortuneMagazine) July 13, 2015