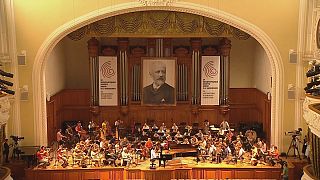 Two Russians, a Romanian and a Mongolian have been honoured at the International Tchaikovsky Competition for 2015.
The prestigious event takes in four categories piano, violin, cello and voice.
Russian mezzo soprano Yulia Matochkina 
claimed first prize for her vocal performance.
Yulia Matochkina: Tchaikovsky, Cilea — 1st prize voice - http://t.co/wu3u8K7niwpic.twitter.com/AUZmoNkzdW

— TopCools (@topcools_com) July 4, 2015
Yulia Matochkina is a familiar face on the world's stage having toured widely with the Mariinsky Opera Theatre.
Mongolian baritone Ariunbaatar Ganbaatar,
picked up the award in the male voice category.
Ariunbaatar Ganbaatar: Tchaikovsky, Verdi – With the Mariinsky Theatre Symphony – 1080p - http://t.co/FeTOZs0P6hpic.twitter.com/l4DkdEBijR

— TopCools (@topcools_com) July 4, 2015
Ganbataar, a Graduate of the Mongolian State University of Culture and Art, is currently soloist for the Buryat State Theatre of Opera and Ballet in Ulan-Ude.
Valery Gergiev is president of the competition and spoke of what it means to the winner:"If you win the Tchaikovsky Competition, you are destined to be on top of the world. Daniil Trifonov, last years winner, has had a lot of success everywhere he goes"
Romanian prodigy, 20-year-old,
Andrei Ionita, took first prize in the cello.
Cellist Andrei Ionuț Ioniță wins 2015 Tchaikovsky Competition Gold Medal - http://t.co/PicHzTwdjVpic.twitter.com/AnI2On0Fov

— Ruth Brons (@cellophant) July 9, 2015
Ionita plays an instrument made in 1671 by Italian Giovanni Battista Rogeri one of the most revered violin and cello makers of the Brescan school.
Russian Pianist Dmitry Masleyev, a graduate from the Moscow Conservatory, took the honours for pianoforte.
The prize for violin was not awarded this year as the judges were unable to make a majority decision and the bronze medal was split three ways.