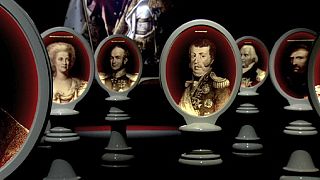 The two hundred anniversary of the Battle of Waterloo is just around the corner.
And a somewhat novel exhibition has been set up to mark the occasion underneath the battlefield itself at the Lion's Mound visitor centre.
It's a museum, interactive tour and 3D cinema to explain the story of one of Europe's most bloody battles.
The Battle of Waterloo saw Napoleon's army face off against Britain and her allies in June 1815.
There were heavy losses on both sides; at least 45,000 people were killed or wounded. The battle also redrew the geopolitical balance in Europe.
With this memorial, the Lion's Mound hopes to boost visitor numbers from 300,000 to 500,000 visitors annually.