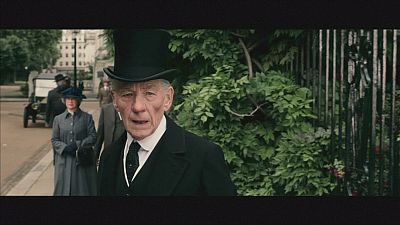 Sir Ian McKellan plays Sherlock Holmes as you have never seen him before. He is the sleuth in a new movie about the fictional character created by author Arthur Conan Doyle.
He is an elderly bee keeper living in a remote farmhouse with his housekeeper and her young son. But he cannot let go of his past.
"This Holmes, Mr Holmes, is 93 years old when we first meet him at the end of a long life, of retirement. And he is trying to solve his last mystery, the one that he didn't quite complete when in his heyday. So I get to play Homes young and middle-aged do that makes it slightly superior to other versions," explained Sir Ian.
"I think the great thing about Sherlock Holmes is that there are so many interpretations of him, you know. Ours is really saying there's an actual Sherlock Holmes not a fictional one who is different from the one that is written about.
'So it plays with the mythology of Holmes and it turns it into to something more real. It's set in the late 40's, he's 93-years-old, so I think you get to see facets of him you've never seen before," said actor Bill Condon.
The movie "Mr Holmes" is released in the UK on June 19.