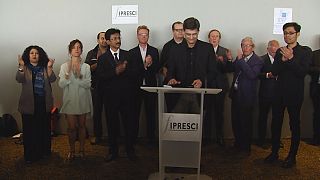 Hungarian Holocaust drama 'Son of Saul' has been named the best film in the main Competition section of the 68th Cannes Film Festival by Fipresci, the International Federation of Film Critics. Bringing together critics from around the world, the federation is known for defending film-makers unafraid of taking risks.
"It was really difficult, we met a lot of resistance when trying to get funding for the film, it's true that we were immediately in deep waters with a debut film like this one, it's an intense first experience in a challenging place like the Cannes festival, but we are really happy," said the film's young director, Laszlo Nemes.
The film follows two days in the life of a Jewish Hungarian prisoner member of the Sonderkommando, the group of Jewish prisoners forced to assist the Nazis in the gaz chambers.
While working in one of the crematoriums, Saul discovers the corpse of a boy he takes for his son, and decides to carry out an impossible task: find a rabbi and give the boy a proper burial.
The federation is celebrating its 90th anniversary this year and its president, Alin Taşçıyan, said she was delighted with the high quality of movies at this year's Cannes festival: "The choice of 'Son of Saul' as the best film in the competition by the Fipresci jury is a very good choice… If I was in the Jury I would vote for it also. It's a film which is creative, and it'a big enough film for a first work, so everything matches with the idea of Fipresci, which is the idea of discovering filmmakers," she told euronews.
The Fipresci Prize for a film in the Parallel Sections went to 'Paulina' by Santiago Mitre, which also won the Grand Prize in the Critics' Week section.
It's the story of a young lawyer who ditches a promising career in Buenos Aires to teach in an impoverished town on the border with Brazil and Paraguay. Brutally attacked by a group of youths shortly after her arrival, she tries to stay true to her ideal and resume her mission.