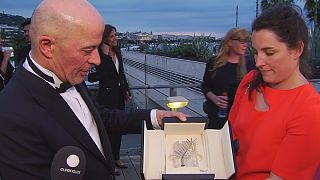 French director Jacques Audiard's 'Dheepan' was the surprise winner of this year's Palme d'Or at the Cannes Film Festival.
The jury, who are only allowed to award one prize per film, displayed an eclectic list of winners and a pronounced taste for French acting talent.
The 63-year old director took the runner-up Grand Prix for 'A Prophet' five years ago and also competed at the 2012 edition with 'Rust & Bone'.
"For me, this was a risky and dangerous film to make," Audiard told euronews correspondent Frédéric Ponsard. "I felt that in the way I told the story, and I was very surprised to succeed in making a film that people watched and enjoyed, very surprised. It's very moving for me to receive the award from the Coen brothers themselves! It's always a very emotional experience to walk onto that stage where others have walked before me, who inspired me to make movies."
'Dheepan' tells the story of a former Tamil Tiger fighter who flees his war-ravaged country along with two strangers – a young woman and a girl. The trio pretend to be a family to make it to France on fake passports. On the rough housing estate on the outskirts of Paris where they settle, Dheepan is forced use his battlefield experience to keep the three of them safe.
Young Hungarian film-maker Laszlo Nemes picked up the Grand Prix, often seen as the festival's runner-up prize, for his debut feature 'The Son of Saul', a harrowing Holocaust drama set in Auschwitz.
"I think this is something (the Holocaust) that still haunts the continent, it's still there, you can feel it, somehow it's an open wound, (there are) underlying forces that you can feel, and I think that the new generations have to be presented with what happened and talk about it in an open way, and that's why we made this movie," Nemes told euronews.
The film follows a member of the Sonderkommando, the group of Jewish prisoners isolated from the camp and forced to assist the Nazis in their mass extermination. When he thinks he recognises his son among the bodies in the gas chamber, Saul decides to give the boy a decent burial, in a final bid to retain his human dignity.
The Best Actress award was shared between Rooney Mara for her role in Todd Haynes' 'Carol' and Emmanuelle Bercot, who stars in French director Maïwenn's 'Mon Roi'.
"If I'm here it's thanks to Maïwenn who cast me in the lead role. I am not a famous actress, I am not a young actress, and that's what makes her so special: she doesn't care about the norm, she doesn't care about what's done or what's not, when she has an idea, she carries it through whatever. So I owe her for giving me the chance to take on this incredible role," said Emmanuelle Bercot, whose film 'Standing Tall' opened the festival.
Starring opposite Vincent Cassel, Bercot plays Tony, who, following a bad skiing accident, is forced to spend several weeks in a rehabilitation centre, where she takes time to think back on her passionate and tumultuous relationship with Georgio.
There was another French victory with Best Actor for Vincent Lindon for his role in Stéphane Brizé's 'The Measure of a Man'. It's the veteran actor's first ever award in a career spanning three decades.
"Without a director who really appreciates him and wants the best for him, an actor can't achieve anything," Lindon told euronews. "So I share this award with Stéphane Brizé. It's a film where I am on-screen most of the time, so it's also a prize for best director in a way, and I am overjoyed that he succeeded in taking his lead actor to this place for the first time in his life."
Lindon plays Thierry, a 51-year old former factory worker who, after a year and a half on the dole, takes on a job as a security guard in a supermarket. Tasked with the soul-destroying job of spying on his own colleagues, he faces an impossible moral dilemma.