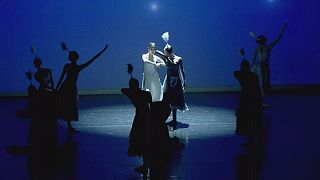 As part of its international tour, Kazakhstan's young Astana Ballet Theatre from Kazakhstan was in Hungary, where it performed to a sold-out theatre.
The Budapest version of the Ballet's Oriental Rhapsody, a combination of classical ballet and the latest trends in folk and modern dance, is a brand new one.
Performed by 30 dancers from the Almaty Choreographic School, 'Oriental Rhapsody' draws on Kazakh folk dance traditions, as well as other Asian schools of dance, from as far afield as India, China, Japan and Korea.
"Each of us is on stage in every other scene. There are 18 scenes altogether so we have to be quick to get changed. The costumes are beautiful but very intricate. Each button on every outfit has to be in the right place," said ballerina Diana Beyseulova.
According to ballerina Aisha Torebay, "the beauty of the performance lies in the fact that it's fascinating for the audience to experience a complex play, where different styles meet."
The audience in Budapest was delighted: "I really like Eastern-style ballet. I am not ashamed to say that I love ballet from the former Soviet states," said one theatre-goer.
"I liked it very much, it was beautiful. The stage design, the colours, the choreography were beautiful! It was wonderful," said another.
A young company, Astana Ballet Theatre was founded in 2013. After Paris, Vienna, Moscow and Budapest, London and Tokyo are on their calender for next autumn.