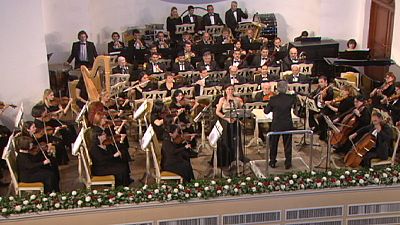 From famous modern music to rarely-performed treasures: The 6th Qara Qarayev International Contemporary Music Festival in Baku presents its wide repertoire from the 20th and 21st centuries.
It is named after the composer who was born in 1918 and was a student of none other than Dmitri Shostakovich.
Qarayev moved on to become Azerbijan's most famous composer. His son continues his father's legacy with this festival.
"From being a famous maestro in the Soviet Union and achieving so much," said Faraj Qarayev.
"He took a risk and decided to change his musical style, starting to teach the twelve-tone technique – a style that wasn't heard at all at that time."
Qara Qarayev took great interest in the works of Arnold Schönberg and Alban Berg who popularised the twelve-tone technique.
Azerbaijanian soprano Farida Mamedova performed Berg's aria "The Wine". She said:
"I was very glad to sing this difficult and rarely-performed piece. You need to sing as if you are the wine. So this is the soul of the wine which is speaking. It's a very interesting image that you need to create."
But also Azeri composers of today get a chance to present their own creations.The Swiss "Ensemble Ecoute" enjoyed this cultural exchange:
Avital Cohen is a flutist with the group, she said:
"It's a very special occasion to deepen artistic encounters and to make incredibly creative ideas come true. We had the chance to work with the composers in person."
The next edition takes place in three years when Baku celebrates the centenary of its legendary composer.