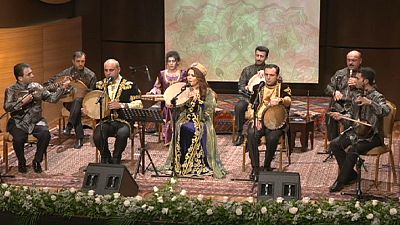 The fourth edition of the International World of Mugham Festival has come to a close in Baku.
One of Azerbaijan's many forms of folk music, Mugham is a traditional art form that combines classical poetry and musical improvisation, drawing on popular bard melodies, rhythms and performance techniques.
The week-long event drew musicians from some 40 different countries.
In 2003, Mugham was recognised as a Masterpiece of Oral and Intangible Cultural Heritage of Humanity by UNESCO. The festival's director, Firengiz Alizade, is a UNESCO Goodwill Ambassador.
"This is our 4th edition, the festival takes place every two years and public interest for the event is growing. Musicians from all over the world get in touch with us to take part in the festival," she told euronews.
One of the stars of this edition was Iranian traditional vocalist Alireza Ghorbani. Mugham, he explains, is an art form that transcends borders: "Mugham can be found throughout the whole region, from Azerbaijan, to Turkey and Iraq. Mugham is transmitted orally and we just pass on the lyrics from generation to generation."
Together with Iranian composer Saman Samimi, Ghorbani recently published a new album 'Lost in Love', featuring lyrics by both classical and contemporary Persian poets: "This album is all about love and poetical dialogue with God," said Samimi.
Mugham musicians begin their musical education at a very early age. Even before they learn to play traditional European instruments like the guitar or the violin, they have to learn the oud or the qanun, a middle eastern string instrument.
Twenty-three-year old Azeri musician Natevan Hasenova doesn't even remember when she took her first qanun lesson: "I started playing this instrument when I was very young, much earlier than when I started playing the piano at the age of 7 or 8," she said.
This year's festival paid special homage to famous jazz pianist Vaqif Musafazadeh on what would have been his 75th birthday with a special jazz concert.
An acclaimed Mugham musician, Mustafazadeh was also a jazz pianist and composer, and is famous for merging the two musical forms in a pioneering movement that emerged in the late Sixties and Seventies in Baku.
As the Mugham Festival came to an end, musicians from all walks of life took to the stage for a jam session in a joyful celebration of the marriage between Mugham and jazz.
The next edition of the International World of Mugham Festival is scheduled in Baku in 2017.