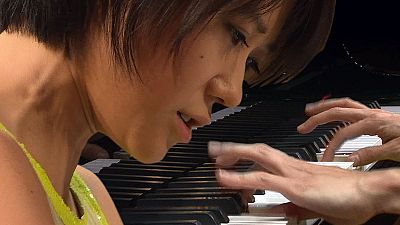 Prodigious technique, wildly imaginative and breath-taking stage presence…. just some of the glowing descriptions which follow Chinese pianist Yuja Wang
This week's Musica explore the woman often refered to as a force of nature and a piano superstar.
At Vienna's sumptuous Konzerthaus, brilliantly accompanied by Zurich Tonhalle orchestra under the inspired baton of Lionel Bringuier, prodigious Yuja Wang recently astounded the audience with Prokofiev's mighty Concerto No.2.
She explained to euronews why the piece is so special: "I feel I have an affinity with Prokofiev because he's very naughty, very sarcastic, biting, against authority… and I love that! By the way, I do know his grandson, who lives in London and is a DJ-composer."
"The Second Concerto means so much for me. I think I first heard it when I was 14 and I remember this really powerful, emotional, intense piece. It's very condensed and there is no extra note; every note, I think, meant something in his very conflicted psychology," added Wang.
In her own mind too, Prokofiev's Concerto No.2, plays more than several tricks. "What I actually see in my head is a witch with smokes and there's so much colour, so much; like fire-crackers. For me this is really dark… almost phantasmagoria. It's psychologically really powerful, to the point that it's a little disturbing, but I love it!"
We also asked Yuja which movement of this diabolically complex piece intimidates her the most. "Every movement?! I think what's fearsome is really the stamina that's needed physically and psychologically, mentally, because, there's absolutely no stop from the beginning to the end."
A hard-core fashionista, Yuja said she is also driven by other great passions: "Definitely, definitely friends, and food… chocolate!"
But music, she adds, is the gift that keeps on giving: "I think we all strive for that kind of perfection, which is not missing notes because I'm not a machine, but that state of almost ecstasy, something that touches people, moves people, and basically the power of music that washes over the public – I think that's what we're seeking for. And that's why I'm flying everywhere in the morning, and playing at night! Oh, I'm receiving as well!"
Yuja Wang will perform again with Zurich's Tonhalle-Orchester on June 24-26, at the Festspiele Zürich, Gustavo Dudamel conducting:
Richard Wagner, Vorspiel und Liebestod, from «Tristan und Isolde»
Richard Strauss, Tod und Verklärung op. 24
Pjotr I. Tschaikowsky, Piano concerto No. 1 in B Minor
For more on Yuja Wang:
www.yujawang.dreamhosters.com/yuja-doing-my-own
http://southfloridaclassicalreview.com/2013/09/yuja-wang-is-back-to-open-the-new-world-symphony-season-with-gershwin