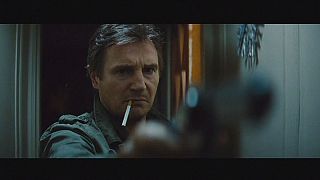 'Run All Night' tells the story of mobster and hit man Jimmy Conlon, played by Liam Neeson, who has one night to figure out where his loyalties lie: with his estranged son Mike, whose life is in danger – or his longtime friend, mob boss Shawn Maguire, played by Ed Harris.
It's a dark and dirty crime thriller, inspired by classics of the genre says Neeson: "I think it (the film) taps into those wonderful films I was brought up on, those John Ford films, those Westerns. They themselves tapped into a kind of mythological story. You see them in 'Star Wars' and stuff like that… Redemption, we're all kind of looking for redemption for stuff we've done in our lives. We're looking for some kind of forgiveness. We're looking for some kind of deep contact with our sons or daughters or fathers," he says.
Swedish actor Joel Kinnaman plays Conlon's son Mike. He says he and Neeson became close during the shooting, which helped him get into the role: "Liam is a generous, warm human being and an incredible actor and he really invited me in and so we became friends pretty quickly and had a lot of good conversations, got to know each other really well and that was really helpful in building that relationship, that complicated father and son relationship, that's what really drew me to the story."
Viewers are warned of the film's particularly violent nature by critics who have described it as an entertaining Action B-Movie.
'Run All Night', starring Liam Neeson and Ed Harris is on global release now.