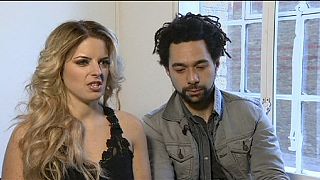 You may not have heard of them yet, but The Shires have just made British music history by becoming the first ever homegrown country music band to break into the UK's top ten album chart.
Founded in 2014, the band is a country pop duo composed of singer-songwriters Ben Earle and Crissie Rhodes.
The pair, who've just released their debut album 'Brave', say they're taking it all in their stride:
"I feel like we just kind of do what we love to do, so I haven't felt the pressure as much. I mean, we just really appreciate country music, but we are British so we sing about British things. But we just absolutely love it, we love getting up on stage, we love performing together, we love writing, so it all has been quite natural to us," says Crissie Rhodes.
Sweet revenge for former wedding singer Rhodes, who was kicked off the X Factor back in 2013.
The Shires start their UK tour in April.
British singer-songwriter Ella Henderson is living the dream.
At just 19, the former UK X Factor contestant already has one platinum album and three hit singles under her belt.
After a promotional tour of the US, she's currently on home soil promoting 'Mirror Man', the fourth single from her debut album.
"It's about a guy that is very self-centered and too vain and we experience too much of that as girls. So yeah, it's something that I felt like I had to say and I was very angry and passionate about it in the studio and I never really knew it was ever going to be on the record but it is and it's definitely a sassier and edgy side to me that not a lot of people get to see unless you really wind me up," she says.
Ella Henderson's UK and Ireland tour starts in Glasgow in April and includes stops in Belfast, Birmingham Manchester and London.