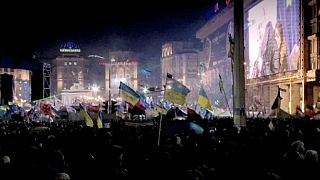 It is the film that captures one of the most significant protest movements of the last decades: Ukraine's Euromaidan that toppled a government.
Ukrainian filmmaker Serhiy Loznitsa and his team were on Maidan at the end of 2013 when protests against former president Viktor Yanukovych erupted in Kiev.
Maidan – the film's title – charts the course from the first peaceful protests to the breakout of violence, which eventually led to Yanukovych fleeing the country.
"It was interesting for me to film what was happening there, on the square. How people were arriving, how they were standing. It was very hard to stand there for 90 days. It's really hard work," Loznitsa told euronews.
Maidan made its debut at the Cannes Film Festival last year and has now been shown in at least 30 countries, including a select screening in Russia.
"It was shown in Moscow at the Artdokfest festival. The screening went very well. However there were room for a few hundred people." the filmmaker explained.
"I think it's unlikely that (Russians) have seen the movie and it is unlikely that they need the movie," added Loznitsa.
Unlike films about the Arab Spring, the Belarus-born director rejects the usual format of news footage spliced together with images shot by activists.
"A film is not a sociological study. Therefore I prefer that you as a viewer make your own judgment based on what you see. As an author, I should not impose my own or somebody else's opinions," Loznitsa said.