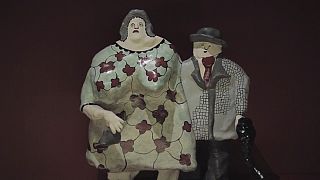 A comprehensive exhibition of works spanning the entire career of French-American artist Niki de Saint Phalle has opened at the Guggenheim Museum in Bilbao.
One of the most renowned artists of the mid-20th century, Saint Phalle was a pioneering feminist in both her art and her life and remained outspoken, radical and creative up until her death in 2002.
Among her most famous works were the 'Nanas' – large-scale, brightly coloured sculptures of women, that explored the role of women in society.
"She was very politically involved throughout her career, with AIDS, involved with gender equality, against the arms race, and we can see these political comments all throughout her career shown in the exhibition," says the show's curator Álvaro Rodríguez Fominaya.
Saint Phalle shot to fame on the international art scene in 1961 with her famous 'Tirs' or 'Shooting Paintings'. Plastic bags filled with paint were placed behind paintings or sculptures, and would burst when the works were shot at.
Spanning six decades and arranged chronologically, the exhibition features some 200 pieces that deal explicitly with violence and the suppression of women in a patriarchal society.
The Niki de Saint Phalle exhibition runs at the Guggenheim Museum in Bilbao until June.