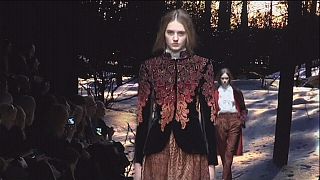 To see and be seen: that's the name of the game at Milan Fashion Week.
The Gucci show drew both anonymous and famous fashion fans alike, as crowds were keen to discover the first ever collection by newly appointed art director Alessandro Michele.
And the change was radical. Gone were the plush carpets, glittering chandeliers and trays of champagne that traditionally greet Gucci guests.
Featuring an autumunal colour palette of browns and beiges with bursts of red and blue, the collection was accessible with simples shirts worn with straight trousers, high-waisted skirts and coats with the odd fur addition.
Alberta Ferretti presented a collection that encapsulated Italy's rich heritage.
Inspired by the Renaissance, her outfits featured landscape-painted velvets, tweeds patchworked with rich brocades, and delicate lacy white organza shirts.
Contrasting materials such as tweed with lurex, gobelin and brocade were used for the mini dresses, coats and jackets.
Extravagant Italian fashion designer Roberto Cavalli went for a Bauhaus-inspired mix of shapes and materials in a 1970s colour palette for his youth-aimed brand Just Cavalli.
"We are doing a look of a girl who is travelling, she has seen the world and she has hair to show that she has done it all," said hair stylist James Pecis.
The designer sent the models down the catwalk in velvet and leather suits in blue, petrol and black. To soften the silhouette, he used fluffy tops and skirts and fringed hems.
In Cavalli's trademark style, many of the outfits featured spotted and geometrical motifs with accessories including bags with fluffy wrappers and chunky sneaker heels.