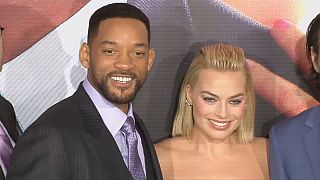 Will Smith is back, as veteran con artist Nicky who meets his match when he stumbles upon novice Jess in crime-comedy 'Focus'.
Jess is played by newcomer Margot Robbie, who shot to fame opposite Leonardo Di Caprio in 'The Wolf of Wall Street'.
The stars hit the black carpet for the film's Los Angeles release.
This is Smith's first leading role since starring in the the his sci-fi flop 'After Earth', which he also produced.
The rapper-turned-actor, once named the Most Bankable Star In Hollywood, beating the likes of DiCaprio, Johnny Depp and Angelina Jolie, said it was a humbling experience, which taught him some lessons.
"You know, not that I don't care as much, you know, basing your self image on whether or not a movie is a hit is really dangerous. So I guess I'm kind of maturing to a place where creatively and spiritually and artistically I have an offering to make and I'm going to make my offering with the best of intentions without being bound emotionally to the outcome," he said.
Co-star Margot Robbie shared her thoughts on Patricia Arquette's now famous Oscar speech, in which the Best Supporting Actress laureate spoke out in favour of wage equality and equal rights for women in America.
The Australian actress, who made her mark in Martin Scorsese's 'Wolf of Wall Street' returns with another strong female character in this movie.
"I think people have really taken notice of that and are making an effort to change that. So, I think there's actually a lot of great female roles happening and coming out at the moment, and that I definitely want to be at the forefront of continuing that motion, for sure," she said.
The movie has opened to mostly critical acclaim with one critic calling it razor sharp although several reviews deplore the fact that it runs out of steam in the second half.
'Focus' starring Will Smith and Margot Robbie is on global release from now.