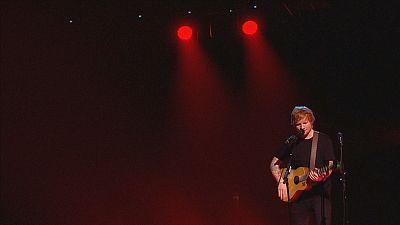 English singer songwriter Ed Sheeran was the big winner of the British music awards, walking away with two of the four awards he was nominated for.
Taking Best British Solo Artist and the coveted Best Album nod for his second studio album (multiply), the
The 24-year-old looked moved as he mounted the stage to collect his trophy.
Ed Sheeran:
Soul singer Sam Smith, who was nominated for five awards and competed with Sheeran for Best Album, topped off his recent four Grammy wins with a Global Success award and British Breakthrough trophy.
"This shows that I'm stepping in the right direction so thank you so much to all my fans for buying my music. Thank you," he told the crowd.
Sam Smith:
Twice-nominated retro-soul singer Paloma Faith walked away with her first ever Brit award, taking the British Female Solo Artist gong.
Faith's third album, 'A Perfect Contradiction', released last year, featured production by Pharrell Williams and Plan B, and was the sixth bestselling album of the year in the UK.
Paloma Faith:
Rock duo Royal Blood defeated popular boy band One Direction in the Best British band category.
One Direction got the British Video Award as a consolation prize.
One Direction:
"We started this band two years ago just to have a bit of a laugh and to make some music together as friends and this is huge so thank you," said Mike Kerr of Royal Blood.
The award for Best International Female Artist went to Taylor Swift, who opened the show.
Best International Male Solo Artist was awarded to Pharell Williams… and the International Group Award went to Foo Fighters.
Pop priestress Madonna provided the most dramatic moment of the show when she got tangled up in her Armani cape and fell offstage during her first performance at the Brits in 20 years.