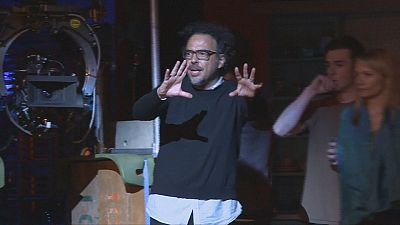 With Oscar weekend upon us, we profile those nominated for Best Director.
Starting with Mexican filmmaker Alejandro Gonzalez Inarritu, who has been shortlisted three times for the film 'Birdman' including for original screenplay which he co-wrote and as producer of the Best Picture as well as Best Director.
'Birdman' stars Michael Keaton, as a washed up Hollywood star, trying to resurrect his career on Broadway.
But Inarritu faces stiff competition from Richard Linklater, whose innovative film 'Boyhood' was a labor of love, filmed over twelve years.
The concept was to take movie-goers through the aging process of a typical American family.
Three nominations could see 'Boyhood' win Best Picture and Best Screenplay too
'Foxcatcher' director Bennett Miller is shortlisted for a second time. This nomination is for the harrowing real-life story of convicted murderer John E. DuPont.
who shot and killed Olympian gold-medalist Dave Schultz in 1996.
Miller previously earned an Oscar nod in 2006 for 'Capote'.
Wes Anderson, whose offbeat film making style has gained him a rabid fan following, is nominated for 'The Grand Budapest Hotel'.
It stars Ralph Fiennes as a concierge who teams up with one of his employees to prove his innocence after being framed for murder.
Anderson's other hits 'The Royal Tenenbaums' 'Fantastic Mr Fox' and 'Moonrise Kingdom' have previously received Oscar nominations.
Norwegian filmaker Morten Tylden rounds off the category. His first English-language film 'The Imitation Game' has earned him high praise in Hollywood.
It portrays the life of British mathematician Alan Turing who helped break the Enigma code during World War II but was then convicted for being a homosexual and chemically castrated.