Birdman, Julianne Moore and Eddie Redmayne savour Oscar success
Comments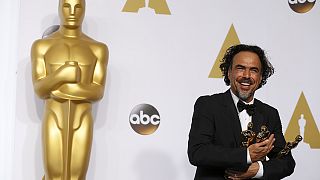 Well what a night at the Oscars in a ceremony dominated by Birdman, a black comedy-drama about a washed up Hollywood star trying to reinvent himself on Broadway.
The movie picked up four awards, including the two most coveted – Best Film and Best Director for Mexican filmmaker Alejandro González Iñárritu.
Another favourite, Wes Anderson's The Grand Budapest Hotel – a comedy starring Ralph Fiennes as a concierge who teams up with his lobby boy to prove his innocence in a murder – also picked up four nods, including Best Original Score and Production Design.
No surprise in the Best Actress category, with the award going to Julianne Moore for her moving portrayal of a linguistics professor fighting Alzheimer's disease in Still Alice.
And Best Actor went to British actor Eddie Redmayne in The Theory of Everything, about world-famous physicist Stephen Hawking.
There were three Oscars for Whiplash, with an expected Best Supporting Actor gong for J.K. Simmons in the role of a maniacal music teacher who drives his students to the edge of nervous collapse.
There was some disappointment for Richard Linklater's coming-of-age film Boyhood, shot over 12 year period, which earned Patricia Arquette a widely expected Best Supporting Actress gong.
Check out our live blog below for the highlights of the night.
2015 Oscar Winners
Best Picture – Birdman (or The Unexpected Virtue of Ignorance)
Best Actress – Julianne Moore, Still Alice
Best Actor – Eddie Redmayne, The Theory of Everything
Directing – Alejandro G. Iñárritu, Birdman
Best Supporting Actress – Patricia Arquette, Boyhood
Best Supporting Actor – J.K. Simmons, Whiplash
Animated Feature Film – Big Hero 6
Documentary Feature – Citizenfour
Foreign Language Film – Ida (Poland)
Adapted Screenplay – Graham Moore, The Imitation Game
Original Screenplay – Alejandro G. Iñárritu, Nicolás Giacobone, Alexander Dinelaris, Jr. & Armando Bo, Birdman
Original Score – Alexandre Desplat, The Grand Budapest Hotel
Original Song – "Glory" from Selma
Film Editing – Whiplash
Production Design – The Grand Budapest Hotel
Sound Editing – American Sniper
Sound Mixing – Whiplash
Visual Effects – Interstellar
Cinematography – Emmanuel Lubezki, Birdman
Costume Design – Milena Canonero, The Grand Budapest Hotel
Makeup and Hairstyling – Frances Hannon and Mark Coulier, The Grand Budapest Hotel
Animated Short Film – Feast
Live Action Short Film – The Phone Call
Documentary Short Subject – Crisis Hotline: Veterans Press 1