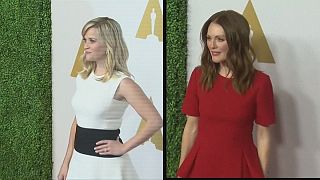 The nominees for Oscar for Best Actress is a battle between two newcomers, two previous Oscar winners and a woman receiving her fifth nomination.
Front-runner Julianne Moore has already picked up several major awards for her role in 'Still Alice', where she plays a college professor suffering from early onset Alzheimers.
This is the 54-year-old's fifth Oscar nomination, having received previous nods for lead actress for 'The Hours' and 'Boogie Nights' among others.
Playing the first wife of physicist Stephen Hawking in the biopic 'The Theory of Everything' has helped Felicity Jones to her first Oscar nomination.
Follow our live online coverage of the Oscars ceremony from midnight CET on Sunday February 22
Although the Briton has been acting since the mid-1990s, critics say 'The Theory of Everything' really put her on the map.
The demanding role of Jane Hawkin showed how she cared for her genius husband after he was left paralysed by motor neuron disease.
Reese Witherspoon earns her second Best Actress nomination for her role in 'Wild' as author Cheryl Strayed, who chronicles a thousand mile hike that she takes after suffering a personal loss.
Her part in the 2005 drama 'Walk the Line' also saw her awarded by the Academy.
As well as acting, the 38-year-old is also a passionate film producer, picking up professional credits for 'Wild' and 'Gone Girl'.
British actress Rosamund Pike nabbed the role of a lifetime in David Fincher's 'Gone Girl' where she stars as Amy Dunn, a suburban woman whose strange disappearance baffles the world.
The film is adapted from the best-selling novel by Gillian Flynn.
Despite playing a Bond girl when she was just 21, it was her relative obscurity that led to her being cast as the perfect mystery woman in "Gone Girl."
There's also a second Oscar nomination for Marion Cotillard, this time for her work in the French-language film "Two Days, One Night".
Playing a young Belgian mother whose workmates have chosen to receive a cash bonus in exchange for her dismissal. She has just one weekend to convince them otherwise.
Her previous Oscar nod was for playing French singer Edith Piaf in 2007's 'La Vie en Rose' and since then, she's become one of France's most popular exports.