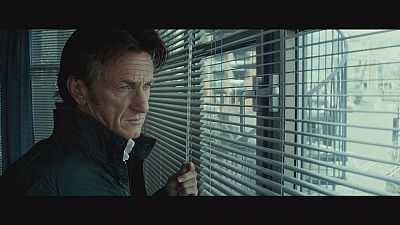 In 'The Gunman', American actor Sean Penn takes on the role of Jim Terrier, an ex-special forces soldier and military contractor suffering from Post Traumatic Stress Disorder (PTSD) who flees the Democratic Republic of Congo after carrying out an assassination, leaving behind his lover.
But Terrier's past comes back to haunt him when his former employer tries to have him killed, and he must travel to London and Barcelona to clear his name.
The two-time Oscar winner was joined by his A-list girlfriend Charlize Theron in London on Monday at the film's premiere.
'The Gunman' is Penn's first leading role in an action film but he said that it wasn't a conscious decision to do one.
"Well I don't know that I summed it up quite that simply. I mean clearly it's what drives the narrative but the world of it I suppose. The characters were interesting and I like Pierre Morel."
Based on the novel 'The Prone Gunman' by Jean-Patrick Manchette, the movie's helmed by French director Pierre Morel, who launched the hugely successful
'Taken' franchise.
Liam Neeson was 56 when 'Taken' was released in 2008 and at 54, Penn seems to be following in the Irish actor's footsteps as an older action star. But Morel says he doesn't look at age when casting his films.
"We propose with great stories that attract these fantastic actors. We don't choose to go for older people. I mean, I like stories that are not only about action but actually are more plot driven with intense characters or intense back-stories and I think this is why it attracts fantastic actors at that level."
"The Gunman" also stars Javier Bardem, Idris Elba, Ray Winstone, Mark Rylance and Jasmine Trinca and is released across most of Europe over the next month.