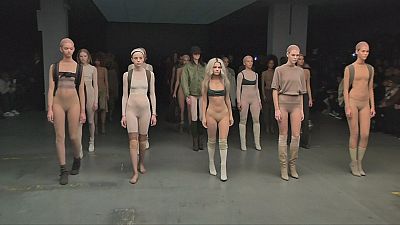 Rapper turned fashion designer Kanye West unveiled his new Yeezy Season 1 clothing line and sneakers on the opening day at New York Fashion Week.
Fashion royalty attended the event including American Vogue editor Anna Wintour, who sat in the front row next to West's wife Kim Kardashian.
Asked backstage how the trainers symbolized him, West said:
"It's not me, it's the people. I think that there's something that the people have been wanting and missing and this is my proposition, you know, to contribute in some way. I want to contribute to society through usable art which furniture, clothing, technology are forms of usable art," says the self-declared creative genius
In an unorthodox approach, West displayed his looks for men and women in single files, with some female models dressed in sheer leggings and crop tops.
The collection's new Yeezy Boost, a high-end shoe reportedly made with boost cushioning technology, was created in conjunction with athletics company Adidas.
An app was set up to take reservations for the gray suede high tops, to be collected in New York stores only, and reservations were full within minutes.
This is not West's first attempt at fashion – his debut collection in October 2011 was savaged by critics, some of whom advised him to stick to the day job.
Sensible advice, which the rapper may not have forgotten, as he took the opportunity to feature one of the songs from his new album at the show.
Japanese-born American designer Tadashi Shoji showcased a fluttery and ethereal collection in tulle and feather gowns.
Shoji said he drew inspiration for his fall 2015 collection from the joy of flight. Models walked the runway in faux-fur, feathered dresses, and beaded embroidery.
The palette ran through the spectrum, from black and ivory to bolder tones reminiscent of precious stones.
As usual, the highlight of the collection were Shoji's famous gowns, out just in time for the red carpet season.