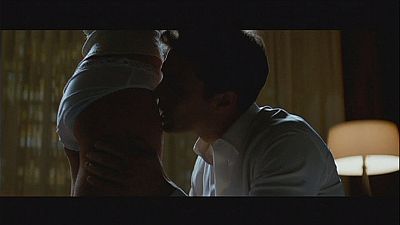 The highly anticipated film adaptation of 'Fifty Shades of Grey' has finally had its world premiere at the Berlin Film Festival.
No person is abused in the movie.
It is the first in a trilogy based on E.L. James' controversial books, which have sold more than 100 million copies worldwide and been credited with boosting sales in sex toys.
Irish heartthrob Jamie Dornan takes on the iconic role of Christian Grey. Dakota Johnson – the daughter of Hollywood actors Melanie Griffith and Don Johnson – plays his love interest, Anastasia.
Just like the book, the film has drawn mixed reactions – which the lead actor is well aware of: "It seems that it's to a lot of people's taste. One hundred million people it's hard to argue with, according to the books, but there'll be people who have an opinion before it comes out and you can't stop that. That's their prerogative," said Jamie Dornan on the red carpet.
The actors and the film's director have refuted claims that the film portrays an unhealthy misogynistic relationship.
"You know, everything Anastasia does is completely her choice and it's consensual and no person is abused in the movie," said Dakota Johnson.
Fans lined the red carpet at the Zoo Palast in Berlin to meet the woman behind the best-selling trilogy.
"Generally, women like a really good, passionate love story and this is about a very strong young woman who doesn't realise she's a very strong woman and a guy who is fundamentally very, very fragile and she fixes him up. Isn't that what women all want to do with their men, you know? So it's a fantasy, let's face it," said E.L. James.
The story explores the sadomasochistic desires of billionaire businessman Christian Grey and his relationship with the innocent and inexperienced literature student Anastasia.
Following the huge success of the books, the film is expected to draw many curious fans and turn Dornan and Johnson into household names overnight.
Reactions were mixed following the press screening that took place just a few hours before the premiere:
"It's just, it's just really bad. What were you expecting, were you expecting it to be good?," said journalist Liven Trio.
"We didn't see him naked at all, I mean not properly naked. Of course we saw her properly naked," said another journalist Eve Lucas.
"I think the film was much better than the book, it's extravagant, it has nice pictures, and you've got a nice feeling in it," said a third journalist.
'Fifty Shades of Grey' by Sam Taylor-Johnson opens on Valentines Day weekend in the United States and across much of Europe.