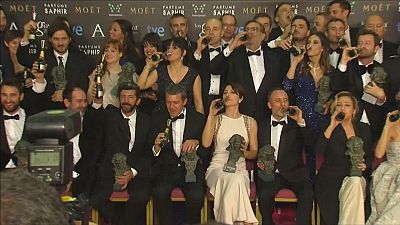 Penelope Cruz, Antonio Banderas, Pedro Almodovar – all the big names in Spanish cinema were there for the 29th Goya Awards ceremony, Spain's equivalent of the Oscars.
He "set fire to Spanish movie screens in the 1980s", said Almodovar of his friend, actor and producer Antonio Banderas, as he handed him an honorary award for his lifetime achievement and contribution to Spanish cinema.
Banderas said he owed his Hollywood breakthrough to Almodovar and paid homage to the legendary director: "It's impossible to understand my career without taking into account the seven movies I did with Pedro, that is a fact. I have to say that I owe him my break in America, in a way. The respect he earned in Hollywood as a director helped me and actors like me to gain recognition in the US."
The big winner of the night was 'La Isla Minima' – distributed under the English title 'Marshland' – a police thriller set in the marshlands outside Sevilla.
Directed by Alberto Rodriguez, the box office hit scooped 10 Goyas including Best Film, Best Director, Best Screenplay and Best Actor.
"You always try not to think about victory – you don't want to feel silly if you don't win… But what happened tonight is quite unbelievable. It was the best scenario I could have dreamed of. I'm really happy," said Rodriguez.
'Wild Tales' by Argentinian director Damian Szifron won the Goya for Best Latin American film.
A collection of six separate stories united by a theme of vengeance that explodes in spectacular bursts, the film was produced by Almodovar, and is one of five competing in the Best Foreign Language Film category at the Oscars.
"I'm very happy with the Oscar nomination. Just being nominated in the Foreign Language category is a triumph in itself. I don't want to think about whether I will win or not. We can lose and still be very happy, I'm already very happy to be there," said Szifron.
Though the economic crisis severely affected its cinema industry, Spanish films scored a record high at the domestic box office last year – a good enough reason in itself for the industry to celebrate.