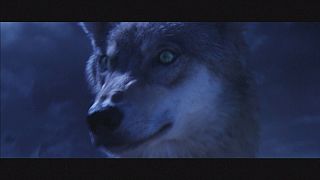 Set in 1967 during the Cultural Revolution, 'Wolf Totem' by Jean-Jacques Annaud is the film adaptation of the best-selling Chinese novel of the same name.
An environmental cautionary tale that pits a pack of wolves against an influx of settlers, the book, published a decade ago, is widely seen as a critique of China's communist rule and surprised many when it was approved by the censors.
Annaud says he enjoyed complete freedom from Chinese censors in his film adaptation: "From the beginning, I was given what we call "carte blanche". I wrote the screenplay very freely. It went through the reading bureau without any… They let me free from that screenplay and then I shot very freely. I had no-one to check on me, no-one to check on the dailies. Then I showed the first cut and I didn't have any negative comments."
Backed by the state-run China Film Group, the movie deals with conservation themes head on, though it largely avoids the book's more subtle political issues.
Annaud says that conservation had been one of his constant preoccupations as a director. For lead actor Feng Shaofeng it was a rare opportunity.
"As an actor, it was an amazing journey for me. We were always told that wolves are very ferocious animals, that they are wild and they eat people. But when I spent time with them during the shoot, it changed my perception of them. I think wolves are incredible animals. They are hunters, but they live as a highly disciplined team," he says.
'Wolf Totem' will be released in China on February 19 just in time for the Chinese New Year holidays, and will be out in France at the end of the month.