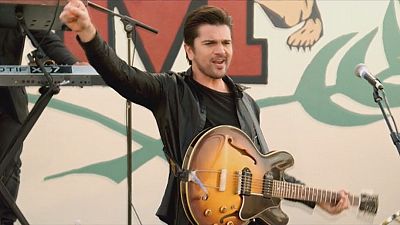 Latin superstar Juanes is getting ready to perform live at the upcoming Grammy Awards – in his native Spanish – a rare occurence at the music event.
The Colombian singer-songwriter will be performing 'Juntos', which he wrote for the movie 'McFarland, USA', starring Kevin Costner as a cross-country coach who leads a group of young Latin American immigrants to championship victory.
The multi-Grammy Award winner is up for Best Latin Pop Album for 'Loco de Amor'.
"I'm very happy to be invited to the Grammys. It's like a dream come true. I've been waiting many years for this. And now I'm very happy and we're rehearsing a lot, preparing for the big night. We're going to perform 'Juntos,' which is a new song that I wrote for the Disney movie 'McFarland, USA'," said Juanes
"When you perform in a show like that, the Grammys, I mean it's like a big window for the rest of the world. So people can see you, and know your music very easily around the world. So it's something very special, and just because you know all the big musicians and artists are there, so it's a great night for me."
Juanes is delighted to have a chance to perform in his native tongue – he says there aren't many artists who do that on the international music scene.
"There are a lot of Latinos, but they are speaking English. And they are living in the English culture, but with the background from Latinos. So, if you see like Shakira or Ricky Martin or Pitbull, all these artists that are becoming very big in the American market because they are singing in English. For me, it's still kind of difficult to sing in English. I tried. Actually, I recorded the song 'Juntos' in English, and I think it's the first time that I feel comfortable doing it," he said.
Juanes says that when he saw 'McFarland, USA' after Disney Studios contacted him to ask if he would write a song for the movie, he liked it so much that he accepted. Based on a true story, the film is out later this month.
He is currently working on a new album and plans to tour the U.S. and Latin America next year.