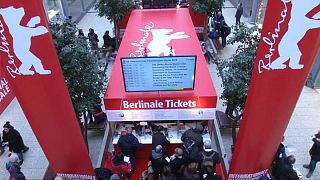 The 65th Berlinale is set to stay true to its reputation as the world's largest public film festival with more than 400 screenings over ten days.
At the Berlin Arkaden shopping mall, hundreds of fans queued up to get their hands on the prized tickets. Some 300,000 were sold at last year's event.
"It really is a festival for fans. That means you can watch the film together with the actors. So you're on the same level as the movie stars and you get to see the film's world premiere together," said one fan.
The program, as always, is eclectic: "Once again, this edition features a mixture of films by well-established directors as well as young, upcoming directors who are presenting their films at the Berlinale for the first time," said festival director Dieter Kosslick.
The festival opens with the world premiere of Spanish director Isabel Coixet's 'Nobody Wants the Night' starring Juliette Binoche and Gabriel Byrne.
Set in 1908, it tells the story of Josephine Peary, the wife of an American arctic explorer, who accompanied him to the Earth's northernmost regions and famously gave birth to their daughter there.
This year's jury is presided over by American director Darren Aronofsky.
A total of 19 films will be vying for the top prize, which will be awarded on Valentine's Day.