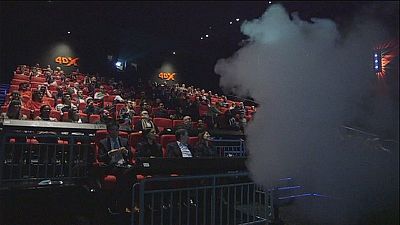 Forget 3D darling – it's so 2014.
The true cinema experience today is 4DX – a revolutionary new concept that stimulates all your senses.
Cineworld in Milton Keynes, north of London, is the first multiplex in the UK to offer this all-inclusive adventure.
"We've taken time to make sure that the technology is just right for the discerning UK audience. They have high expectations and we want to blow them away with the technology, and the 4DX technology is really cool. It's really smooth, it's a great experience and our customers will love it," says Justin Skinner, vice-president of Marketing at Cineworld.
The auditorium's moving seats shake from side to side, up and down and backwards and forwards, in synchronisation with the film's action.
The massive curved screen measures a huge 10.5 by 5.8 meters.
Developed in South Korea, the technology is already available in 30 countries around the world.
"It was quite surreal. What I found quite interesting was you kind of forgot that the seats were moving and I guess it added another dimension to the movie. It was a really interesting experience. It's very different to your sofa at home," said one enthusiastic cinema-goer.
"The seats were moving, there were bubbles at one point in the film, there was smoke at the front, there was water and wind and pressure pads in the back. It was nuts, like a rollercoaster," said another.
Entertainment technology which brings back memories of failed 1950's attempts at olfactory cinema, that offered viewers a chance to "smell" the action.
4DX screenings of 'Kingsman: The Secret Service' are on now at Cineworld in Milton Keynes.