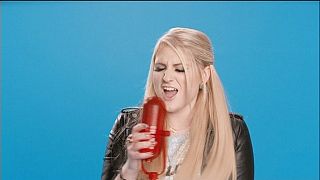 Less than a year ago, US pop sensation Meghan Trainor was treking from audition to audition hoping for a record deal. Now she's at the top of the charts worldwide, and she's just released her debut album, Title.
"The album, Title, that I just put out, is different, and fun and very relatable," she said. "It's about topics that not a lot of artists talk about. And I think I went there and talked about them. There's a song called Walk of Shame, which pretty much explains it right there. There are different genres and feels and it's fun."
Meghan Trainor's mega-hit All About That Bass, topped the charts all last summer, prompting some critics to speculate that she might find it difficult to sustain her success.
But she has rejected that idea: "I'm not a one-hit wonder. I'm here to stay. And the results are in. I have two top charting songs, Lips Are Movin and All About that Bass, so I'm confident that people will enjoy my album."
Meghan Trainor has also written songs other artists, including girl band Fifth Harmony, country group Rascal Flats and One Direction heart-throb Harry Styles.