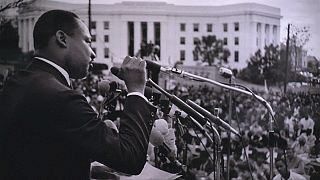 Stephen Somerstein was just 24 years old when he photographed Dr. Martin Luther King Jr. and the five-day, 54-mile Selma to Montgomery March in Alabama in January 1965, capturing on camera a historic event that changed the course of the African-American Civil Rights Movement.
Fifty years later, his photographs are part of a New York exhibition to mark half a century since the freedom marches.
At the time of the events, in 1965, the young New York student had a strong sense of history unfolding before his eyes.
Somerstein asks: "How do you capture a sense of the people there and why they're there and what their business was? A story that had to be told. So I had to work that out for myself, to find people who would represent those moments in time, the coming together, the different races, the different people from different parts of the United States – even people from Canada were there. And how can you get a sense of their moment?"
The exhibition opening coincides with growing interest in a movie depicting the historic march, 'Selma' http://www.euronews.com/2014/11/17/us-civil-rights-biopic-and-oscar-hopeful-selma-premieres-in-la/, which has been nominated for two Oscars, including Best Film.
'Freedom Journey 1965: Photographs of the Selma to Montgomery March' runs at the New York Historical Society until April 19.