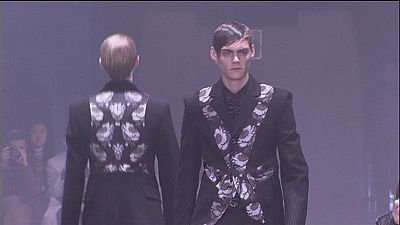 The creme de la creme of fashion was out for the Burberry Prorsom show at London's menswear fashion week, including the hottest model of the moment, Jourdan Dunn, and iconic Vogue editor Anna Wintour .
Geek chic was the order of the day at the show with prints of paisley, animal, camouflage and bohemian patterns inspired by Durham quilts.
The show was a chance for Burberry to debut its Scholar Eyewear Collection for men, with models sporting glasses in hues that matched their clothes as they took to the runway to live music by British singer-songwriter Clare Maguire.
The latest Alexander McQueen menswear collection took centre stage in a dusty warehouse near London's Albert Embankment, where creative designer Sarah Burton showcased her proposals for Autumn-Winter 2015.
Crimson, black and silver dominated the colour palette for this show, which celebrated old-fashioned military elegance, with perfectly tailored jackets, overcoats, and frock-coats, printed with dark poppies and worn with leather gloves. There were also sloganed pinstripe suits, and the show concluded with models wearing glittering silver stars like they were medals.
Dunhill's new creative director John Ray made his debut at London Collections Men with smart-casual outfits inspired by the creative artists of London's late 1950s and early 60s.
The Dunhill man was a gentleman through and through. The collection gave a modern twist to classic clothing, featuring trousers with turned up hems, fitted shirts with crisp white collars, slouchy cable-knit jumpers, checks, stripes and tweed blazers.
Colours were inspired by the tubes of paint found leftover in artists studio – including pinks, yellows and cobalt blue against a backdrop of earthy browns and greys.