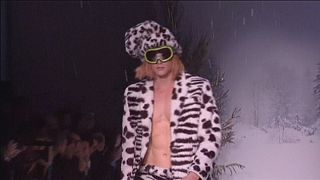 Lindley Hall was turned into a real life snow globe for the eagerly awaited Moschino show at London Collections: Men.
Animal print, patchwork and tartan dominated the show, which was interspersed with female models in colourful pieces and underwear paired with oversized fur-lined boots and glittering coats.
The mostly topless models certainly bucked the trend for the male waif with their bulging muscles, perky pecs and ripped abs.
The collection's real stand-out pieces were definitely après ski orientated, with luxury long-johns, gold quilted jackets and bright, cosy patchworks that should definitely be part of every avid skier's wardrobe next winter.
The Gieves & Hawkes presentation was at Christie's in Mayfair, and was "all about the confident, successful city guy" according to creative director Jason Basmajian.
Centering around outerwear and overcoats, Basmajian used plenty of cashmere, double-faced wool and silk with a palette of charcoal, black, plum and navy.
"Well, I think that this man has definitely come back into the city. This is really about an urban collection, a man who works. It's definitely dark and moody in terms of the feel. I wanted to celebrate that you can dress really stylishly as a man but still be cool," said the designer.
As usual, Savile Row tailor Richard James unveiled his collection in the BMW garage on Park Lane.
Sharply cut jackets and coats and ankle skimming trousers were interspersed with the occasional poncho and tall, wide-rimmed hat, in a collection inspired by the British engineers who built the first railroad through the Andes in 19th century.
A colour palette of blue, grey and earth brown with accents of red, fuchsia, yellow and turquoise set out to capture the costumes of the indigenous peoples.
Presented over four days, London Collections: Men is the UK's biggest showcase of menswear.